We're The Smart Dental Choice
Your Affordable Maidstone Family Dentist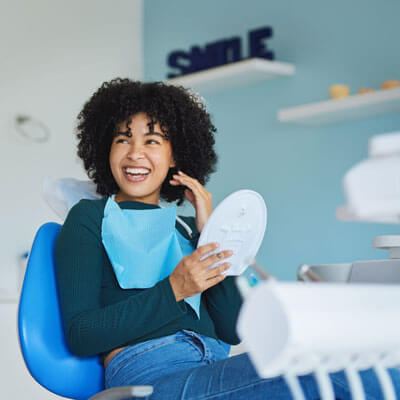 Accessible Care and FinancingOur veteran dentists and oral health therapists have years of combined experience in family dental care. Together, we work to provide efficient and accessible services for all ages. Working as a team allows our practice to run more efficiently, so that you can enjoy both affordability and quality dentistry under the same roof.
Don't have a dental health fund? We offer flexible payment plans for every budget. Start on your treatment straightaway to treat problems while they're small (and avoid unexpected emergencies later). Our competitively-priced services are designed to meet your family's needs.
New patients can take advantage of our discounted teeth whitening pricing after their first appointment!
Gentle Techniques
We've invested in state-of-the-art resources like The Wand for "needle free" anaesthetic during your treatment. This application method anesthetizes one tooth at a time, so that you won't have to experience prolonged numbing across half your mouth.
Still feeling a bit nervous? Our experienced providers also offer sedation dentistry upon request.
Now you can breathe easy and feel relaxed, whether you require emergency care or a routine filling.
Here, you're always in great hands.
Everything in House
As a team of multiple dentists and oral therapists, we're able to accommodate complex cases right here in our practice. Working together, you can enjoy fewer visits with providers you already know and trust. The better we get to know you, the more at ease we can help you feel!
Preventative Strategies
We spend one-on-one time with each family to incorporate healthy habits and preventative strategies that limit the need for more aggressive treatments. That way we can catch problems earlier and manage them while they're small (and more affordable).
Same Day Appointments Available
Request a visit for your child or the entire family, today. Contact us to get started.
CONTACT US

About Smart Choice Dental | (03) 9317 3144