Dental Implants at Smart Choice Dental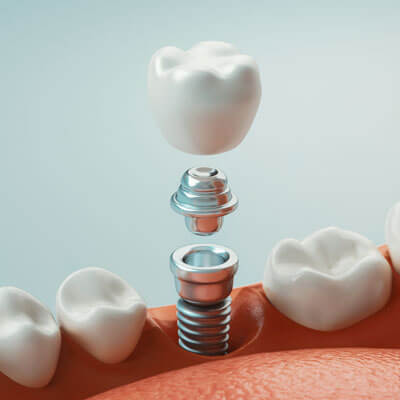 There's never been a better way to replace missing teeth than with today's modern dental implant designs. At Smart Choice Dental Hypoallergenic dental implants are made to last a lifetime, offering you the best return on investment for your dental reconstruction needs.
What Are Dental Implants?
Dental implants are biocompatible restorations designed to function like natural tooth roots. When set into the bone, they integrate permanently with your jaw.
Implants can support intense amounts of weight and biting pressure, making them stronger than natural teeth. That's why it's possible to use pairs of them to anchor multi-tooth restorations. As few as 4-6 implants can support a full-arch prosthesis.
Single or Multiple Teeth
Each of our custom implant restorations (crowns, bridges and dentures) is curated to your unique smile. The flexibility of dental implants means you can easily replace one tooth, a few at a time, or all of them at once. When you restore your missing teeth with dental implants, you benefit from the advantages of:
Healthy bone support
Fuller facial profile
Full biting and chewing abilities
No alteration to other teeth
A comfortable and minimally invasive process
Lifelong tooth replacement
Simple daily maintenance
Predictable and Safe
Dental implants are backed by proven research and data as one of the safest and most predictable methods for tooth replacement. Our practice also offers sedation options if you prefer to relax during the implant restoration. Otherwise, they can usually be comfortably installed using only a small amount of numbing medication.
Am I a Candidate for Implants?
The ideal dental implant candidate will have healthy gums and bone tissue. All patients must be at least 18 years of age. To find out if you qualify, we recommend reserving a no-fuss consultation with our implant dentist.
Contact Us Today
Reserve your implant exam now to get started!

Dental Implants Maidstone, Braybrook, Maribyrnong, Sunshine North VIC | (03) 9317 3144