Dentures at Smart Choice Dental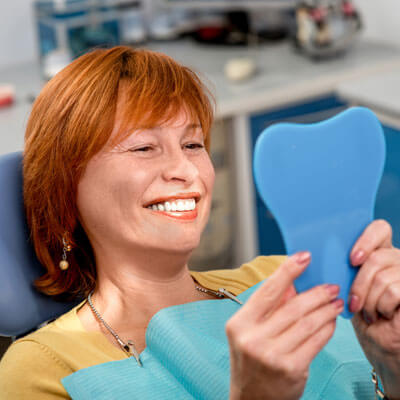 Are you searching for a quick, economical way to replace all your missing teeth simultaneously? Full and partial dentures are an excellent choice.
Smart Choice Dental
custom-fits all dentures for comfortable, attractive results that help you get your smile back!
Types of Dentures
Full and partial dentures are the most common. A full denture replaces all the teeth in your upper or lower arch at one time. Some people refer to them as 'plates'. Partial dentures only replace missing teeth, snapping into place around any healthy teeth you can retain.
Implant-stabilised dentures are also available. Both permanent and removable designs allow you to customise your denture experience to best fit your budget.
Our providers will work closely with you to help you select the best dentures for your lifestyle and goals.
Daily Maintenance
Dentures should be removed nightly. Always keep your prosthesis away from pets and small children. To clean them, soak your denture in a gentle effervescent cleansing solution overnight. The next morning, brush and rinse it clean before putting it back into your mouth. Be sure to clean the inside of your mouth regularly with a soft washcloth or toothbrush.
If you find your denture rubs, rocks or feels uncomfortable, be sure to bring it in to have it evaluated. Occasional adjustments or relines may be necessary.
Are Dentures Right for Me?
Are you considering removing problematic teeth? We work hard to help our patients retain their natural smiles whenever possible. But if teeth are diseased or damaged to the point where they are non-restorable, removing them may be best. Otherwise, we can fit you with a partial denture or implant-supported restoration to fill in the spaces of your missing teeth.
Reserve a Consultation
We're delighted to answer any questions you may have about dentures. Contact us today to reserve an appointment.

Dentures Maidstone, Braybrook, Maribyrnong, Sunshine North VIC | (03) 9317 3144
Dentures