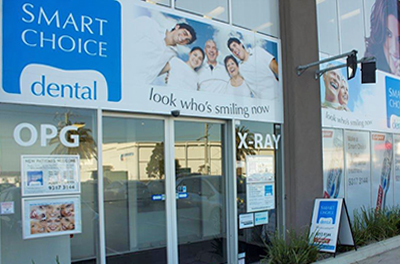 Your New Maidstone Dentist in Melbourne's Inner West
Contact Us Today
Phone (03) 9317 3144
Send Us An Email
Are you are looking for a new dentist? Then Smart Choice Dental will have you smiling.
Our name is our promise – to provide you with smart solutions that are also smart for your pocket
We believe that dentistry should be affordable, accessible, and no matter what your background or reason for your treatment you will be treated with respect. We want you to be proud of the choice of dentist you have made.

AFFORDABLE – Payment Plans available for small or large treatment

CURRENT – State of the art facilities to care for you

INFORMATIVE – We discuss all your treatment options

FLEXIBLE – Appointments available daytime, evening, Saturday

HEALTH FUNDS – Preferred agreements to save money and claim on the spot

LOCAL – Close to Highpoint in Melbourne's Inner West

SKILLED – Fillings, Extractions, Check Ups, Cleaning, Crowns, Dentures – we do it all
Our friendly, professional team will look after you, explain your options, and provide great value treatment. If there is a way to make your ongoing dental treatment more affordable, we will help you!
Confused by your insurance? Ask our team to help remove the mystery, and get better value from your health insurance extras. Yes we are more than just a dental clinic, we care for you and your family in more ways than you thought a dentist ever could!
So try us – you will experience better dentistry, focused on you.

Call, Visit, Smile… (03) 9317 3144 or send us an email today.